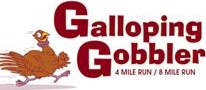 As you are reading this I will be running my annual Thanksgiving race! The Galloping Gobbler has been a tradition for me & my birth mom (K) for the last 4 years. I love this race! It's a hilly 4 miles (no I haven't done the 8 yet! I just don't have time that morning.) that goes from a local college out through a cemetery and then back to the college. I know it sounds creepy and weird running through a cemetery but this particular one is just gorgeous. In fact I had some pictures taken of me & my car (senior picture style) there quite a few years ago. There are some really old graves and some graves that I believe are written in Russian. There are a few really gorgeous big statues too. One in particular stands in the part of the cemetery that I THINK is the children's area. It's a GIANT (like 12+ foot) angel. It's always a bit emotional running past there but another good reminder to hug my crazy babies a little tighter. But my FAVORITE part?! I don't feel guilty having that second piece of pie! In fact a couple years back I was really struggling the last half a mile to the finish and the lady running beside me said "Just focus on the pie!" and I named (in my head) the different types of pie and rated them in order of most to least likely to have multiple pieces. I know! I have issues and running brings out how crazy I really am!
ANYWAYS! I hope you all have a super Happy Thanksgiving! I hope you eat until you have to unbutton your pants! I will be wearing leggings so I can eat and not worry about fitting into my clothes! I will make sure to take lots of pictures and give you a full run down of my Thanksgiving on Friday.
Speaking of Friday! Who is going Black Friday Shopping?! I'm on the fence about it this year. Last year I got better deals & bought more on line than I did when I was out shopping all night. So I'm on the fence. I'm sure it will be a last minute decision tomorrow. But I'll let you know! I know some of my friends have already been shopping today on line! I guess I'd better go and get some shopping done now!
HAPPY THANKSGIVING!!
Love, Lacey